CE Evaluation Services
Components and machinery to be shipped to the European Union (EU) member states must conform to the European Norms (EN standards) and applicable safety directives. NSS performs machinery and component evaluations to the Machinery Directive, Low Voltage Directive, and EMC Directives as applicable. NSS provides comprehensive third party reports and arranges for Certificates of Conformance from a Notified Body (where required) for each of the required directives.
Machinery Directive and Low Voltage Directive Conformity Assessment
The Machinery Directive applies to machinery of all types and covers all aspects of machinery safety such as guarding against mechanical hazards, electrical hazards, and other hazards such as chemical radiological, or ergonomics and human factors.
The Low Voltage Directive applies to electrical equipment.
NSS can perform all design review, inspection, evaluation, and testing services required by the applicable standards and directives. If necessary or desirable, NSS can obtain the CoC from a European Notified body for the machine.

Electro-Magnetic Compatibility (EMC) Directive Conformity Assessment
The EMC Directive states that most electrical and electronic products made, sold, or used in Europe must conform to the requirements of the EMC Directives. Specifically the product must not interfere with any other product in any way and the product must be immune to certain external interference sources as prescribed by the directives.
NSS can provide onsite or laboratory testing services to verify conformance to the EMC directive. When on site testing is performed NSS can obtain the CoC from a European Competent Body.

ATEX Directive
The ATEX directive applies to electrical equipment and components that are to be used in an explosive or potentially explosive atmosphere. These hazardous atmospheres are classified into different zones based on the hazard level and type of hazard present (i.e. gas, liquid, dust). Equipment and components used in potentially explosive atmospheres must meet the requirements of the ATEX directive and applicable standards, or appropriate protective means needs to be taken (such as intrinsic safety, purging and pressurization, etc.). NSS can provide design consulting services for the ATEX directive, assist with self declaration of equipment or components, or when necessary obtain a Certificate of Conformance (CoC) from a Notified Body.

Technical Construction File (TCF) Development and Review
NSS can help assist with the stringent documentation requirements of the EU. If necessary, NSS can prepare the complete TCF, assist in the TCF preparation, or review the completed document.
Correspondent to other Directives
Please feel free to contact us about RoHS Directive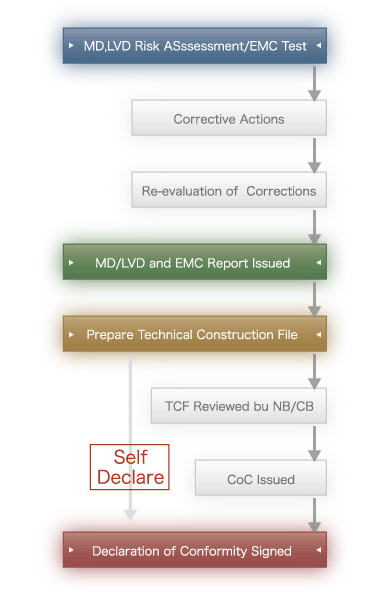 TOP PAGE